The PowerPoint and YouTube catalog template - 8 pictures per page
Product Catalog Template for PowerPoint and YouTube.
It has one product item per page. Unlike other templates, it shows up to 8 photos per page and automatically places them in the catalog.
Additional photos are shown in the main interface, Image 2 tab , and as additional files on the Additional files bar.
How to make a professional video catalog or a presentation with this template?
Click the "PowerPoint" main menu button.
Select a template in the opened window and click the "PowerPoint" button.
You can export the resulted catalog in a video format for posting to YouTube (read more )

Some Considerations of Product Placement on YouTube.
Google responds well to placement of new videos on a YouTube channel linked to a website. More search results. Subscribers are immediately informed about placement of new collections.
And the most important thing here is that creation of various catalogs with different collections, new products and selections, and their regular placement on your channel is absolutely free! Promote your YouTube channel and increase customer satisfaction!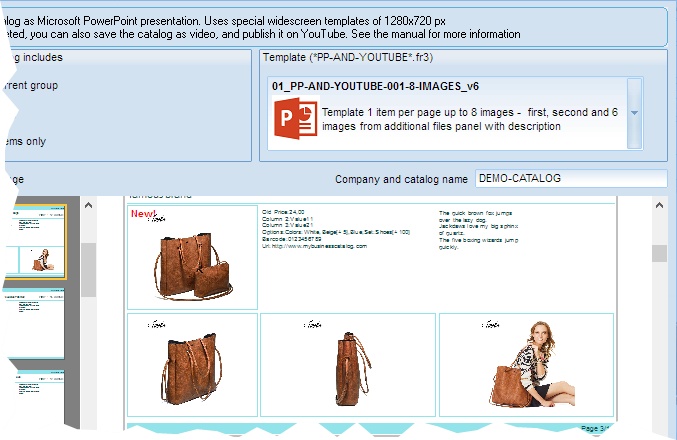 Video catalog example - 8 images per page