This article focuses on main working principles of product catalog templates in MyBusinessCatalog
Detailed review of the all free catalog templates .
What catalogs can MyBusinessCatalog create?
All catalogs, price lists, brochures and other documents are created in MyBusinessCatalog on the basis of templates.
The following documents are created using templates:
Printed catalogs
PDF catalogs
Price lists
HTML catalogs
Booklets
Presentations, PowerPoint catalogs
Video catalogs for Youtube
Video mini catalogs for social networks (such as Facebook or Instagram)
And order, price quote and invoice forms. (full list of electronic catalogs)
Selecting a template

Each document type has its preview window with a range of suitable templates.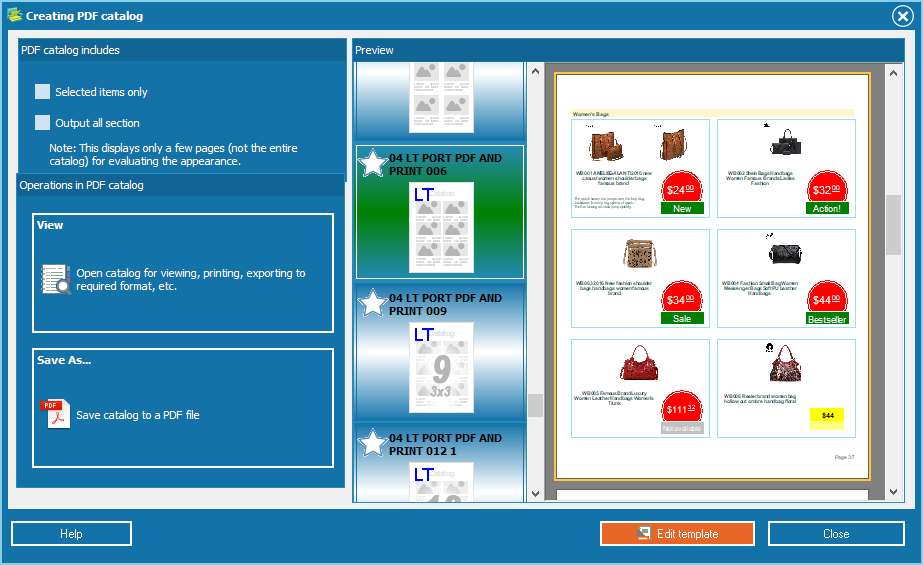 According to the type of your document, different functions are offered in related boxes. PDF catalogs can be previewed, saved, posted to a website or sent to your customer via email; the print function is also available for printed catalogs; there are options for various video modes of video catalogs, etc. This factor, plus convenient independent configurations of each catalog type account for different boxes and windows of, as it may seem, equally created documents.
Configuration of templates
So, you have selected a document type you would like to create and then chosen a template from the list offered by MyBusinessCatalog.
After you have installed MyBusinessCatalog, you will have a wide range of templates for different purposes. Each template has about 150 settings described herein in detail.
At the first stage do not forget that you are selecting a template that should be suitable for your products. For example, a price list can be traditional, including pictures, group photos, etc., while a catalog may include 2 to 4 large images with a detailed description, a bar code and a marketing block or 100 small pictures with names and prices; a booklet may show a lot of images of your product at different angles or may have only one photo, say nothing of a large variety of background images, order forms and descriptions of terms and conditions included in your document, etc.
As a template is selected and you are quite satisfied with it, please click the "Designer" button. You will see a window with various settings and now you can configure every detail to meet all your demands. If something is unclear to you, do not hesitate to click the neighboring "Help" button and you will get comprehensive information on your question.
You can find further information in the "Template Manager" section