Selecting the themes for product catalog templates
Introducing a new feature - Themes have been added for PDF, printed catalogs and price lists!
The idea is that after selecting a template, you can also select one of many ready-made themes!
The themes are supported by Version 17.4 and newer. - Download latest edition
Download the additional "Summer" themes kit
The theme only changes the template's background and color settings and does not affect the other options.
Furthermore, you can adjust the settings to suit your taste, like you previously did.

Moreover, you can create and save your own themes and apply them to all your templates so they'll all be in the same style!
You can instantly use the appropriate theme for each sample set of product items - spring collection, children's, new products, etc.!
Working with themes in the report manager
Themes are selected in the report manager.


You select the document type in the top panel 1 (if you went into the manager from the window where you work with a specific document type (PDF catalog , Price list , etc.), then it will be selected automatically).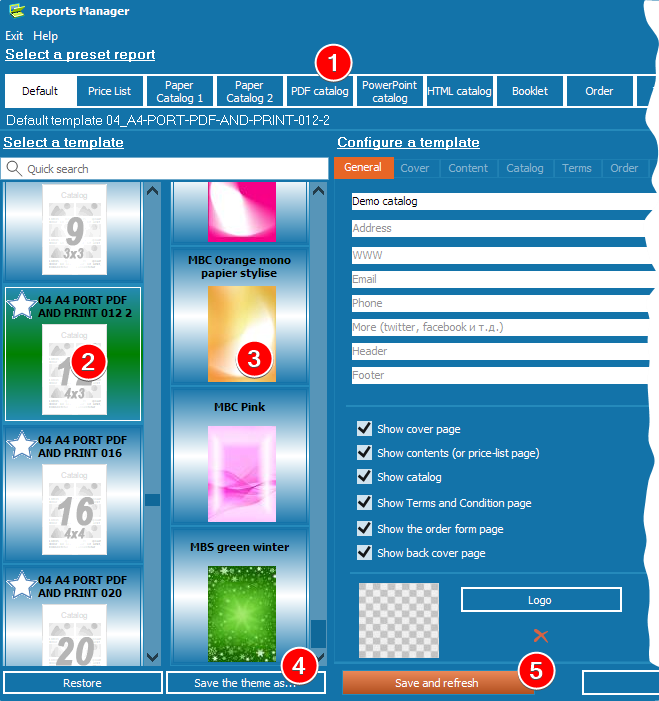 You can select the appropriate template from the vertical list on the left 2, and the theme from the right-hand list 3. By default, the basic supply contains only about a dozen themes. Browse the list to the end and click on "Download" and you will get about 100 more.
If you are happy with the theme selected, click on the "Save and Refresh" button 5 at the bottom of the window, and the theme will be applied to the template.
To restore the previous settings, BEFORE SAVING simply use your mouse to click on the left-hand list by templates 2, and the previous settings will be loaded.
To return to your own settings in the future, or to use them for other templates, you can save the design to your own theme. Use the "Save Theme as..." button under the theme list 4.