Business Proposal Template
The template is included into the basic supply of MyBusinessCatalog.
In order to add more positions to your order, select a product in the product list
and click the big button Add to Order.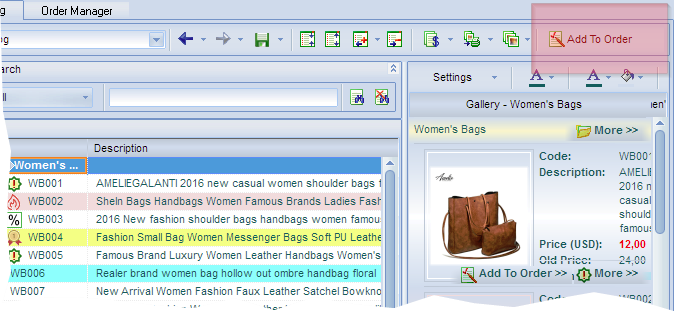 Open the Order Manager tab .
Click Invoice/Price Quote tab above the product list of your current order.
Click Quotation tab in the upper right part and select the appropriate template.

It is a very interesting template. And the business proposals generation subsystem is very useful in business.
It allows to create a beautiful and compact business proposal of your products in an easily accessible form. It allows to consider a lot of nuances such as salutation and personal discount, etc. See more details here.
It is the main and the most frequently used template.
The form header includes the following fields: sender, recipient, the customer's details and salutation.
"Dear John, following our phone conversation, we offer you to familiarize yourself with our personal proposal. It includes all the details previously discussed..."
The proposal includes code, name, price, quantity, amount.
The price can be changed individually in the order form.
The price, discount, taxes, and the customer's notes are at the bottom of the sheet - "Do not hesitate to contact us, if you have any questions."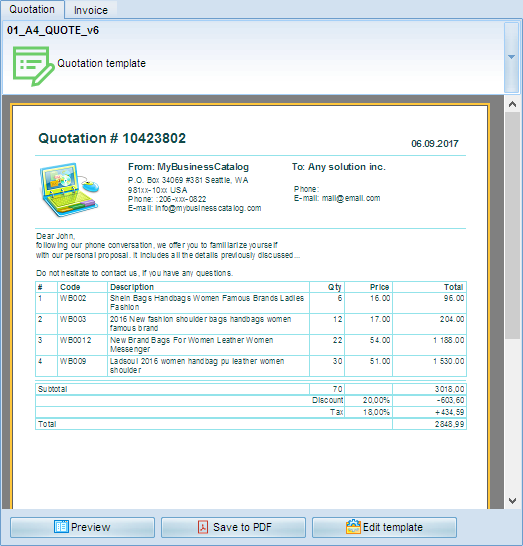 Business proposal example