Compact Price Sheet Template
02 PORT PRICE LIST 6 COMPACT
Is is useful when you have a lot of products of the same type and identical look (e.g. one photo for the whole group). In this case your picture is attached to the whole group. It will be shown together with the description and sign of products included into the group.
It is understandable that pricing sheet templates are useless, if you need to show a lot of features, but it can be you ideal choice if you want to specify item numbers, names and prices only. Turn on "Showing in one column" function in the settings to add more additional information and use another template as the basis for your document.
The template is included into the base template collection.
Click the PRICE LIST button and select a template from the list.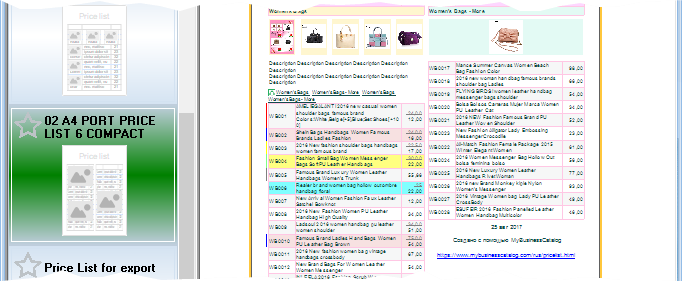 Compact Price Sheet Template