The PowerPoint and YouTube catalog template - 1 product per page
Product catalog templates for saving in the MS PowerPoint format with the following export to a video format and posting to YouTube.
The PowerPoint and YouTube template shows one product item per page, one or two photos, name, code, price and product description.
Please take note of this template (link) , if you need to place more than two pictures of one product.
The aspect ratio and sizes are optimized for showing in a full-screen mode as a presentation and comply with the YouTube requirements, if you save it in a video format.
Even small changes in product features may be of great importance for some businesses. Use this template, if you need to show all product features, additional fields and options such as color, size, etc.

In order to select and view the results, click the big PowerPoint button on the main button bar of MyBusinessCatalog. Then select the best template in the opened form.
It has three versions with a varied arrangement of information sections. See screenshots and examples to select a template that is suitable for the best demonstration of your products.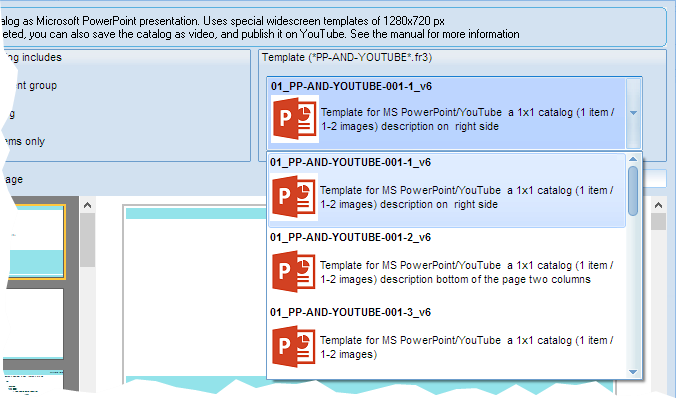 Video catalog example - one page per page