Brochure templates - portrait orientation
The template is included into the standard template collection.
MyBusinessCatalog is an excellent line sheet maker!

In order to design a line sheet, click the Brochure/booklet button over the product picture and select a template from the list on your left.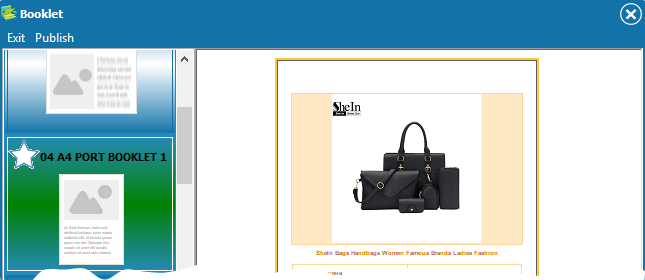 A line sheet will be created for the current product item.
One product per page will be shown, with the following printing or saving as PDF.
The template shows a lot of photos of one product correctly due to the large area of pages.
This line sheet template is ideally suited for you, if you need to show maximum information and provide the full information on products answering all possible questions of your clients.
You should only select a product in the main list, click the "booklet" button, select a line sheet template and the task you need: print or save as PDF.
This template has two design versions: a photo in the upper part that is ideally suited for a large photo or several pictures of one product, detailed description, options (colors and sizes) and parameters are shown in the bottom part of the page.
The second version includes a large section for a picture in the left part, and a product description, options, advertising block, bar code, etc. on the right.
If you are not satisfied with the line sheet format, you can use the catalog template to show large photos and full product information in the catalog format, including a cover page, sales terms and conditions, etc.
In order to do so, you need to check the necessary products in the product list, click "PDF catalog" and select the template "one product item per page". Check the "only for checked products" box.
Portrait orientation (compares to landscape format )
Formats: A4, Letter, Legal.
The template has 150 options for configuration. Read more .
Free brochure templates examples