Depricated.
The actual article is there:
"Product catalog sections and fields settings"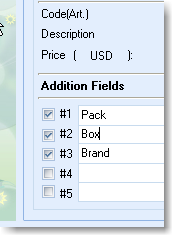 Code (Article)
"Price" field also displays the default currency used in the Catalog. To edit currency settings, click on the corresponding currency.
Auxiliary fields (Package, Weight – see the figure) can be labeled with any name
Select the checkbox by a field name to enable that field. Otherwise, the fields will be disabled.
TOTAL NUMBER OF FIELDS IS ACCURATE FOR ALL GROUPS.
In the Groups of items section, you can redefine the auxiliary field names to fit the requirements of a certain group of items.
Below are the examples of using an auxiliary field and the Currency field in the Catalog: