This wizard lets you create a set of files for burning a CD or burn a CD-R/RW through your computer's operating systems' tools.
On the list of available languages, select the languages you are going to include in your distributive. Please also select the default language to be installed in the users' copies.
Keep in mind that the default language will be available only on computers where MyBusinessCatalog has not been installed and run. Otherwise, the default language will be the one currently used for the Catalog.

Do not edit data and files in this folder – during creation of the distribution kit, all the existing files will be discarded and created over!
If on the 3-rd step of the Wizard you select a different folder for the distribution kit to, you will need to remove the previously created data manually.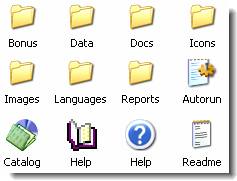 When the Smart-Price mode is used, photographs and detailed descriptions are ignored.
You can copy the contents of the \distr folder to a blank CD using any available technology (number of copies is not restricted) or, having created one Master disk, you can address to a company specializing on CD replication.
For more information on preparing update files for updating previous versions of the Catalog via the Internet, click here.
More on folders contents and description.