Printing a paper catalog
Creating a printable catalog is one of MyBusinessCatalog's features.
With this application, you can:

print your catalog on a printer - all or selected items
save your catalog to one of the formats (PDF, TIFF) for sending to a print house
send your customer a multimedia catalog for Windows, which they can print YOUR catalog on their own

MyBusinessCatalog will automatically solve the problem of creating a high-quality printable product catalog at the office without engaging third-party experts.
First of all, populate your MyBusinessCatalog digital catalog with products. The application will use that data to create the printable and other types of catalogs. You can quickly populate your catalog with:
Drag & Drop (dragging product lists from your sources with the mouse),

Import Wizard that imports data from XLS, CSV and other files.
To print the catalog, click on the button on the main toolbar, Publication tab.

The application comes with two preinstalled appearance templates.

The application's basic set includes 30-40 templates for various cases. At any moment, select the most suitable templates from this list or create your own print template in the "Report manager" (click the "Settings-Reports" button).

As a catalog administrator, you select templates that would give your products the most beneficial look. For example, one template with the full description of 2-4 products on a page, another one - a catalog template for 20-30 items for the index part. These templates are installed in the media catalog, which you will pass to your customer. The customer can't change them, so the catalog they print will always look the way you have set it up. You can also provide settings that would allow your dealers to print the catalog without your prices for demonstrating to their customers.
Setting up printable catalog templates
If you want to set up your own template for your catalog's appearance, we recommend you to select on the list of available ones a generally suitable template (matching number of items per page, visible title, etc.) and then modify that template to suit your needs. The template selection routine and the most common operations over them are described in this article



With such a powerful tool as digital catalog at hand, it would be reasonable to assume that creating a printed paper catalog wouldn't be a challenge for it either. The software includes a report editor for creating printable catalog templates.
It comes with numerous ready-to-use presets, which you can easily customize to your company's style. The digital catalog application can print the following documents:
Illustrated catalog
Price list
Product profile
Order.
All document templates can be customized for your needs. Optionally, you can allow your dealers/resellers to print the catalog without your prices, to demonstrate your products to end customers.


Application: Printing low-circulation catalog, selective printing, getting a new copy of the catalog in the corporate style. Customers can optionally create printable catalogs of your products from the media catalog (CD/DVD/Flash drives)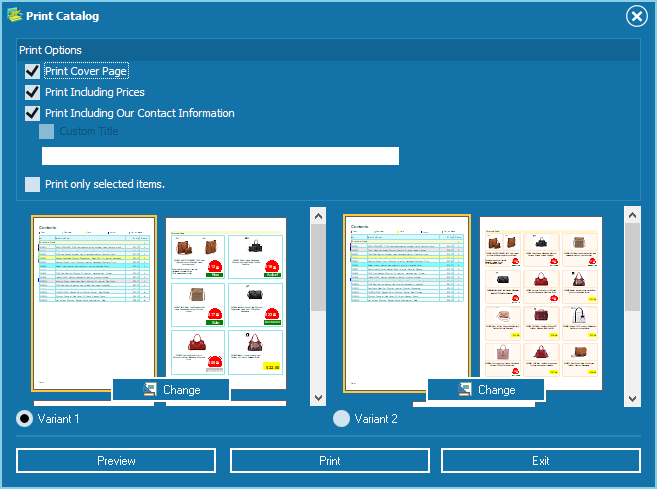 Download the Catalogue Software and start your marketing program right now!