Creating mini video catalogs for Instagram and Facebook posts to replace static pictures will make your products more attractive.
Read more about creating video catalogs for Instagram and Facebook here.
MyBusinessCatalog offers a turnkey solution for making videos from photos of your products containing their names, codes and prices - basically, anything you want.
Let's overview Instagram and Facebook specifications in order to understand better what settings for what catalogs to use.
Instagram
Video aspect ratio: 1.9:1 to 1:1 - Recommend - 1:1
Minimum length: 3 seconds, Maximum length: 60 seconds
Facebook
Aspect Ratio: 16:9 or 1:1
Length: 120 minutes max
Slideshow Design Guidelines
Recommended News Feed image size: 1,280 x 720 pixels
News Feed image ratio: 16:9 (max 4:3) or 1:1
Common
Minimum resolution: 600 x 315 pixels (1.9:1 landscape) / 600 x 600 pixels (square)
Video: H.264 video compression
Format: .mp4 container ideally with leading moov atom
----------------
As you can see, those specifications are still a little bit different.
In Instagram a video 1280x720 will be auto transcated to 640х360
So,
for Instagram -
640x640 and 640x360
for Facebook -
1280x1280 and 1280x720
File format
MP4 or MOV
There are not many settings, let's have a look at them.
Tick the boxes against the required products in the list and click on "Mini Video"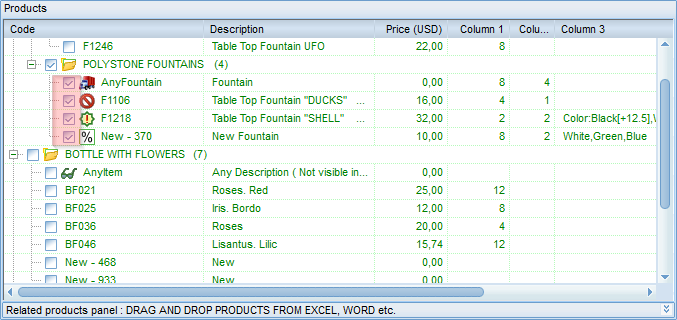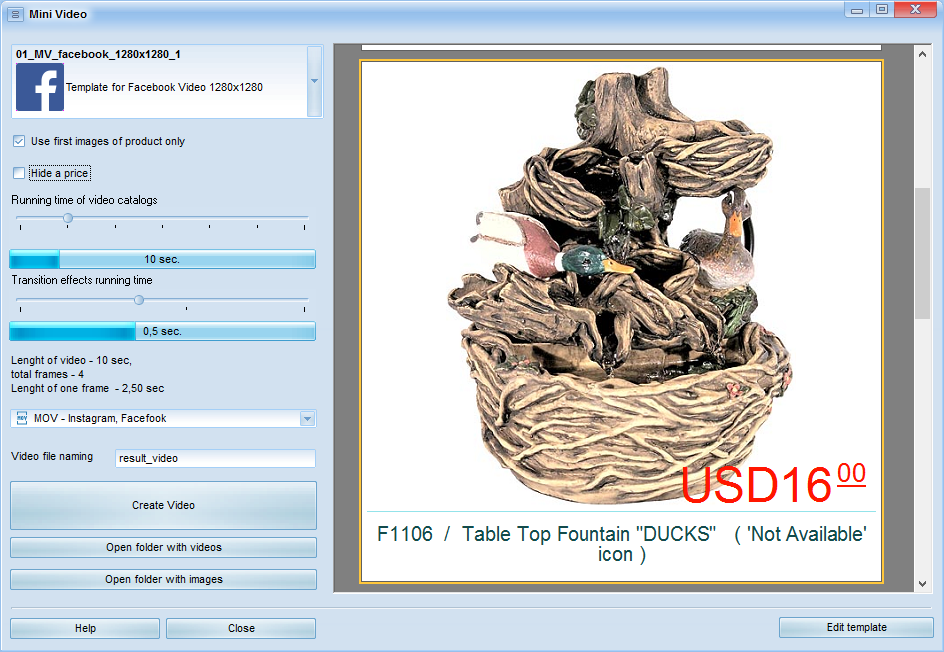 Choosing a template
Choose a template based on the social network you are going to post your catalog to. Purpose and brief description are shown in the list of the templates itself. Each template fully comply with your intentions and its choice is based only on your preferences.
Use only the first photo of products - if you tick this box, only the first picture will be used for each item, in a word, one product - one picture. If you don't tick this box, each photo attached to a product will be used for a separate shot. (Here we describe how to attach many photos to one product). So, you can create a video for one product from different angles and in different colors.
Running time of video catalogs. Maximum running time of a video is 1 minute (if you want a fully-featured big video catalog, read this article - catalogs for Youtube)
Scroll to a needed running time of your future video catalog. Try to make it as short as possible.
Below running time of each shot will be specified. Reasonable timing of one shot amounts to 2-3 seconds.
You can make a separate video for one product, a collection or a group of similar products.
Toy around with various running time options, choose the one that is suitable for your current goal.
Transition effects running time. Its time is included in the shot time and doesn't change the total running time of the video in general and the shot in particular. Just choose the best option.
Final video file format. Every format in the list has an indication of which social networks it is suitable for.
Video file naming. Just type the name in, excluding the file extension.
Create video - click on it to create the video with the selected parameters.
open folder with video - it will open a folder with all previously created video catalogs
open folder with picture - it will open a folder with initial pictures of the LAST created video catalog. Moreover, as far as the video and its pictures are in the same style, their separate use is also reasonable.