You can set up templates in the Report Manager, press the "Reports" button on the button bar.
All templates of the latest versions can be configured without any intervention into them.
If a template maintains such function, you will see this block to the right of the template list.
Please note that the block can be scrolled down and has a lot of functions.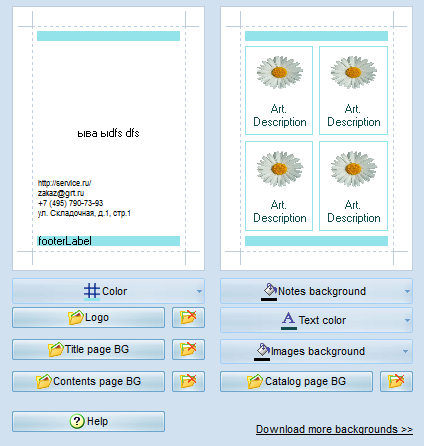 The top block roughly illustrates the final view of your template in the colors and backgrounds selected.
The front page is to the left and a catalog page to the right.
Theme color - the color of frames and badges
Logo - select your logo file. If the logo size and position does not meet your requirements, open the template with the editor and change its size and logo block position
Front page, Index page and Catalog page - select a background for corresponding pages
Text color - the specific color of all texts used in the catalog
Description background - color of the description background, if any
Image background - color of the image background
The Footer can be displayed at the bottom of every page
Download more images - about 30 standard background images are available, click here and download our installation package with hundreds of options

Your company information and contacts is required to be disclosed in your price list and provided in all MyBusinessCatalog catalogs. It can be entered in the settings of the Report Manager without opening your template. It can also be displayed in the footer of every page in a similar way, in case your price list is printed but the front page is lost.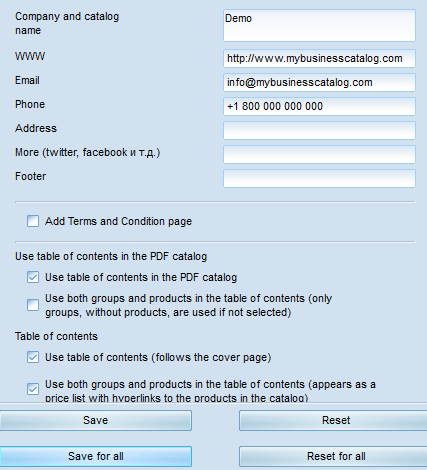 Company name, website, email, phone number, address etc. are located in the contacts block on the front page or at the top of the first page according to the template selected.
Add the Terms And Conditions page. It is a special page that will be added at the end of your document. For editing, please select the Terms And Conditions template and click the Edit button. Edit the page, add a map or anything you want to.
Create price list template
Index
PDF document index is an index to the left of the final PDF catalog.
Catalog index is a list of groups and goods or a paged price list that can be added to the catalog after the front page. You can enter either groups only or groups and goods according to your catalog size.
"Save" button - press it to make your changes effective in the CURRENT template.
"Save for all" button will save your settings in ALL templates. In addition, you can configure each of them separately.
Cancel buttons can restore defaults either for the current template or for all of them.

We recommend you to enter your company information and logo, save them for ALL templates and after that you will be able to set up each template individually, if necessary.
Create, as you have a powerful tool in your hands!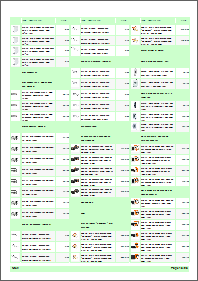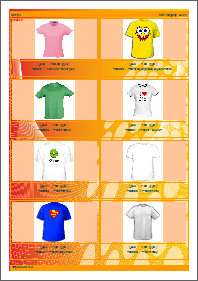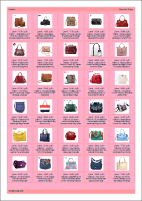 More info there: templates >>