MyBusinessCatalog allows creating, editing, viewing, and printing a number of reports. Those include information on a listed item, price list, catalog, order, etc.

Each report opened for viewing can be saved in one of the available formats.
For that purpose, use the "Export" button on the report menu.
In the window that appears, select the format you want to save the report to.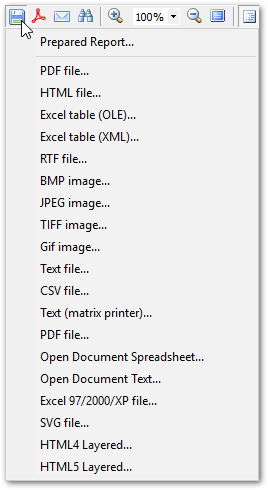 The export feature is always available when the catalog is running in the Edit mode. In the View mode, this feature is available unless it's explicitly disabled by the creator of the catalog (See Advanced Settings).
The Gold version supports sending any report (price list, catalog, etc.) to any e-mail address. Just click on the

button, type in your message, recipient's e-mail address, and your outgoing mail server settings (only once) and then click OK. The active document will be e-mailed to the recipient in the selected format.