An "electronic catalog" has a bit vague meaning. This category includes any paperless catalog.
By contacting with MyBusinessCatalog users, we always take goals into account, as well as purposes of the future catalog use. Basing on the catalog purposes, we can choose an appropriate format meeting all your needs.
The type of commercial license for your company depends on the type of catalogs you need. (How to choose a license)
Let us consider general types of catalogs created by MyBusinessCatalog.
PDF catalog
It is practically an electronic version of your printable catalog. You can whether create a full product catalog or select several product items upon your customer's request. It is not necessary to print it, you can just post it to your website or send to your customer via email.
HTML5 catalog
In this case, just as with PDF catalogs, we recommend you to use this type of catalogs when your customer's company security policy does not allow to install software from unknown sources.
Android catalog
Catalogs for uploading to Google Play Market can be installed by mobile devices.
Your customers will be able to view your products, place orders and send them to you.
Media catalog
A catalog that can be launched on your client's computer. Clients may view your products, place orders and send them to you. It can be distributed whether on a CD/DVD/flash drive or as an installable distribution package from your website.
Video catalog
Creation of video catalogs for uploading to Youtube, with transition effects such as page flip effect, etc.
The uploaded videos can be posted to websites. It positively influences the website positions in search systems.
Catalogs for social networks
Short video catalogs for uploading to Facebook, Instagram, VК, etc.
It can animate news feeds and show products in a detailed and informative manner in one shot.
Online shop
Automated posting of products and images to the online shop.
It conducts all the routine operations of filling the shop with content.
Plus - price lists, price quotes.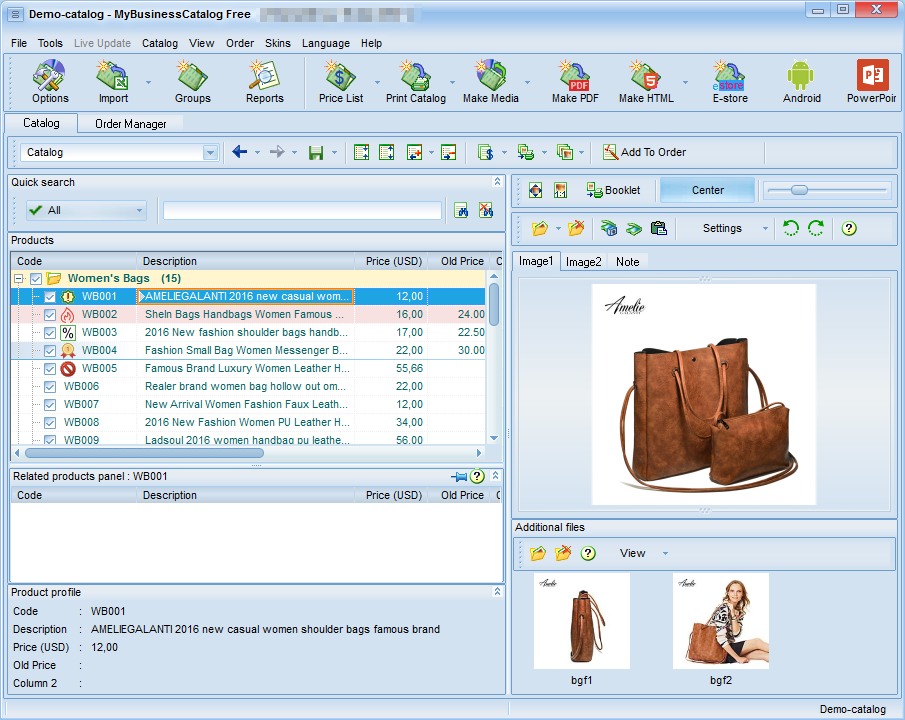 About SKU's in the catalog >>