Price quotations are constantly used in the real business world as an information source.
A price quote usually includes a short invariable static component with terms and conditions of delivery. Customers are provided with rich information on the products offered which will lead to a successful business deal.
It is noteworthy that you may use your quote in different contexts such as preliminary information for a potential client (read more about "hot" and "cold" deals) and a final document with an invoice.
There is no standard form for price quotes. They are typically printed on your company letterhead containing all the necessary business information.
So, after you enter static information into the price quote, all you have to do is to specify the description of the goods offered.
Price quotations in electronic format
We are pleased to introduce you MyBusinessCatalog.
It is a multifunctional software program for various business solutions of trading companies.

It can easily make different business documents, including price quotes, save them (e.g. as PDF) and then email them to your customers.
The idea is as follows: Fill in a product list Add the required products to your list (order) Then compose a price quote or/and an invoice in the format you choose After that, your document is saved as PDF and emailed to the customer for the further consideration or payment.
The same product list can be used for other documents in future. Check out several examples.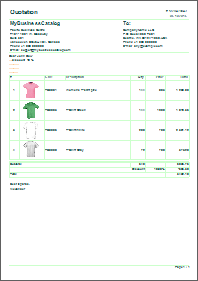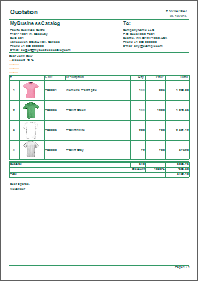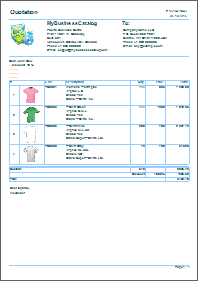 Price quotation samples >>